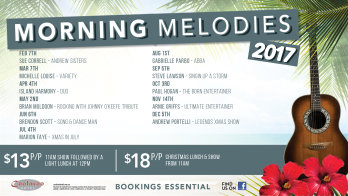 We have great music entertainment lined up for our Morning Melodies. Enjoy a different artist each month throughout the year including:
Feb 7th - Sue Correll: Andrew Sisters
Mar 7th - Michelle Louise: Variety
Apr 4th - Island Harmony: Duo
May 2nd - Brian Muldoon: Rocking with Johnny O'Keefe Tribute
Jun 6th - Brendon Scott: Song & Dance Man
Jul 4th - Marion Faye: Christmas in July
Aug 1st - Gabrielle Parbo: Abba
Sep 5th - Steve Lawson: Singin' Up A Storm
Oct 3rd - Paul Hogan: The Born Entertainer
Nov 14th - Arnie Griffs - Ultimate Entertainer
Dec 5th - Andrew Portelli: Legends Christmas Show
Conditions apply. Bookings essential. See staff for details.
Start - Tuesday 7th February 2017




End - Tuesday 5th December 2017



$13 pp Show & light lunch
$18 pp Christmas lunch & show

11am Show & light lunch
11am Christmas lunch & show