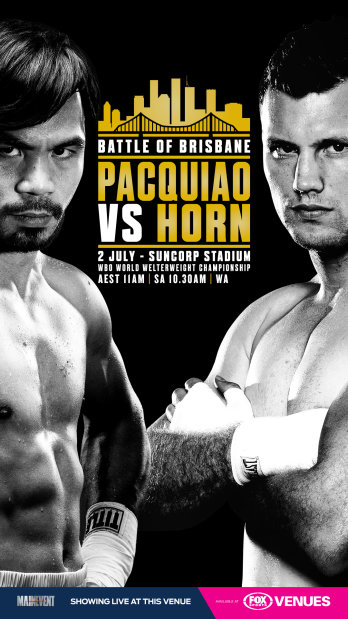 The world will be watching when Australia's own Jeff Horn, takes on global sporting icon and reigning title holder, Manny Pacquiao, for the chance to become Australia's first ever World Welterweight Champion.
Thousands of fans will descend on Suncorp Stadium Brisbane on July 2, joining the millions watching from around the world to witness one of the biggest sporting contests of 2017, a genuine once in a lifetime event.
The biggest events often have a habit of coming into being based on a fortuitous set of circumstances. So it is in this instance. Not only is there the rare opportunity to partner with a high profile World Title Fight featuring a true global sporting star that is being staged outside of the traditional boxing strongholds of the United States and Europe, but, the number one challenger for that title is also an Australian. This is truly a once in a generation opportunity, likely never to be repeated again.
Sunday 2nd July 2017



AEST 11am
SA 10.30am
WA Early